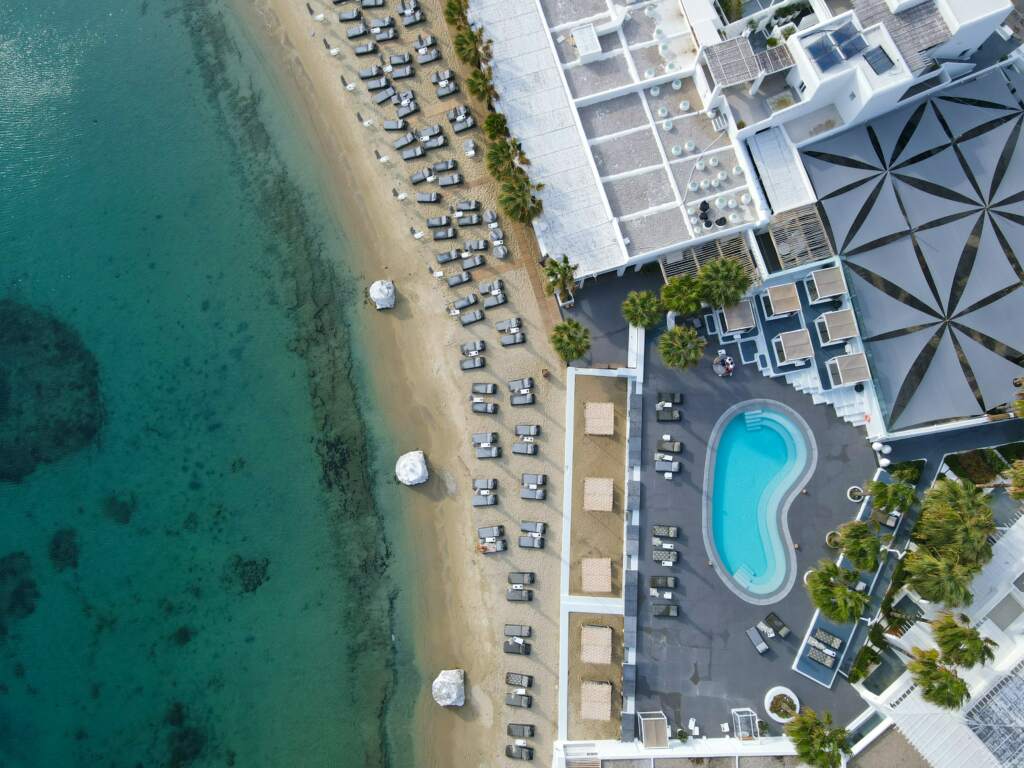 For me, as a mother of two girls aged six and four, nice family hotels have a high priority. An all-round offer that makes the children and the parents happy is very important in our vacations. A good family hotel in Chalkidiki must meet some needs to make the vacation perfect.
What should a good family hotel in Chalkidiki offer?
Preferably a good location directly on the beach, many of the hotels offer a private beach with sunbeds and lifeguards. The hotel should be the starting point to discover the best sights of Chalkidiki or to go to one of the famous dream beaches.
The children's hotel should also offer a delightful ambience. Modern, clean and with a charming playground for the little ones. Large family rooms with two bedrooms, or more, depending on your needs. Small villas or a pleasant bungalow.
The food is just as essential, fine, healthy, fancy and for the kids a special menu, or buffet.
A good kids club is significant for good family hotels and resorts. A first-class facility for professional child care must be present at a family hotel. Time for romping, handicrafts, laughing, dancing, or for excursions, sports and cuddling—when the children's hearts are enchanted there is a carefree vacation. Games, fun, and excitement offer the children an unforgettable time, all age groups get their money's worth. Relaxed parents and happy children is the motto of the family hotels. Even if the care time is used, for example, only for an hour a day, everyone can pursue their needs.
Reading, wellness, sports, or a round of swimming—just let your soul dangle, that's vacation.
What is essential for a nice and successful vacation when choosing a family hotel?
In the family hotels there are different pools, these often play a major role. Heated children's pools, adult pools, indoor pools and large swimming pools for everyone. With the good family hotels, there is something for everyone and offer you a dream vacation in Chalkidiki.
Below you will find some more examples of very good family hotels in Chalkidiki and hotel franchises that leave nothing to be desired. They have been rewarded with high ratings by many families in the aftermath of their vacation due to their positive experiences.
Ikos-Resorts
The Ikos Resort Group has a total of five resorts, two of which are in Chalkidiki . Ikos Olivia is located directly on the gulf of Toroneos, Ikos Oceania, with rooms and suites in maritime style, with furnished terraces and five restaurants is located in Nea Moudania.
Sani-Resorts family hotels
The Sani Resort Hitel Group has a total of five resorts in Chalkidiki, so families with children are guaranteed to get their money's worth and nothing stands in the way of a relaxing beach vacation.
Miraggio Thermal Spa Resort for families
The Miraggio Thermal Spa Resort directly on the beach and yacht harbor.
Spend one of the best vacations of your life in Greece and enjoy the weather, delicious food and be enchanted by the sights of Chalkidiki.
Photo by Dimitris Kiriakakis on Unsplash