Kallithea is about 90 km from Thessaloniki and about 25 km from Nea Moudania. Kallithea is located on the first finger of Chalkidiki, Kassandra and the name of the village translates into roughly "good view". The neighboring village of Nea Fokea is a beautiful place with an exciting nightlife, bars and clubs. A super location for younger party-goers who also want to experience something during their vacation in Chalkidiki and Kallitehea.
The village of Kallithea on Kassandra has many bars, discos and taverns, here you can party and end a relaxing beach day. The lively and picturesque resort of Kallithea of Chalkidiki is very popular with vacationers in the summer time. The beach bars, the park on the shore and atmosphere on the beach offers visitors in Kallithea so much to distract, relax and unwind.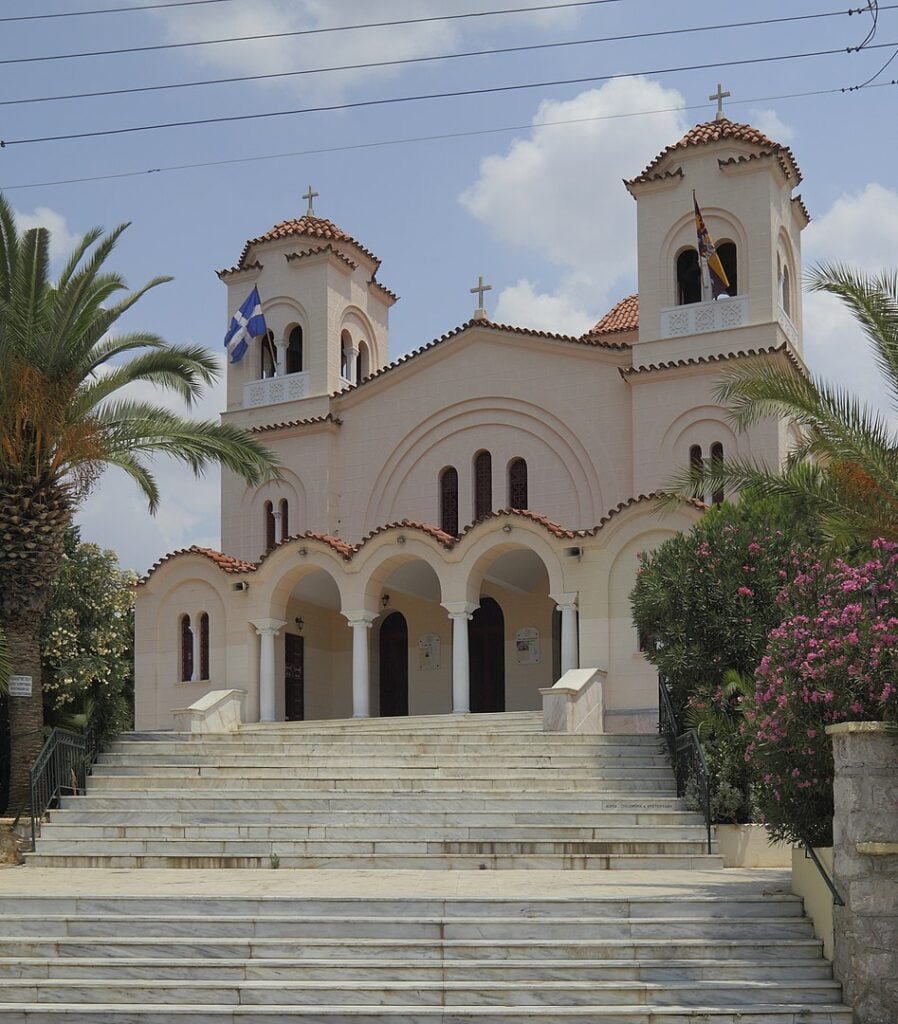 Beach and culture: Kallithea on chalkidiki
The beach is mainly sand, but also partly gravel. Pines and pine trees decorate the beach and the transparent, shimmering water. Also in Kallithea there is an important archaeological find, namely the Ammon Zeus temple. The excavation site of the temple is located right on the beach and can actually hardly be missed by those interested in history. The temple was built in the 4/5 century BC and was dedicated to the god Ammon / Zeus. He was comparable to the father of the god Zeus. Other finds of the excavation are exhibited in the archaeological museum of Polygyros. The video in the following YouTube window shows the beach there and the typical flair.
Addendum: An anecdote about a visit to the dentist on vacation / Kallithea
In contrast to the many dreamy towns and villages on the Greek peninsula, Kallithea has a better infrastructure due to the tourists. Supermarkets, gas stations, hairdressers but also dentists and general practitioners can be found here. Unfortunately, we had to find this out ourselves and after two days of vacationing on Kallithea, we had to visit a local dentist with a lot of pain pills. If one is accustomed to the high standard of our domestic dental practices, one becomes briefly once different when entering.
The technical equipment was certainly the newest, but in English we could make ourselves understood well, and the inflamed tooth root was treated and cared for professionally. At home, as a precaution, I went to my trusted dentist in Pfinztal in Germany and had the treatment of the Greek colleague checked. From his point of view, the diagnosis was competent, and the treatment was good. Luck in the misfortune, I would say.
Kallithea Video
Photo-Credit: Kalithea Chirch – Von A.Savin – Eigenes Werk, CC BY-SA 3.0, https://commons.wikimedia.org/w/index.php?curid=27397350